Image source: e-commerceseomarketing.com
Maximizing the visibility for an e-commerce business is the sole role of SEO for selling products or services online.  In this maser guide, we will learn everything required to optimize your e-commerce website from keyword search to technical SEO.
The strategy that an e-commerce solution company follows is to make sure that the right content is positioned at the right time for the right person to look at. Keeping this in mind, in this post I am sharing the strategies which will help you expand your e-commerce website traffic and turn the visitors into customers. So, let's dive in.
Keyword Research:
Set your SEO in motion by keyword research because this is the most basic step. By expanding your search engine ranking for as many suitable keywords as possible, you are raising the probability of your website being noticed and visited. Even the site architecture, URLs etc have to take the keywords into account and hence finding the right keywords for your website is a big deal.
Amazon is one of the biggest e-commerce sites, try entering a keyword in Amazon's search that describes your own product. The Amazon suggested keywords will be the most targeted one. Likewise, you can try on other big sites also. Apart from this, you can also try using tools like Keyword Tool Dominator, to find the right keywords.
Start by finding the best-suited keywords for your product and then put them in the right categories and sub-categories. Amazon is a great place to find category page keywords. They have neatly designed their departments and subcategories: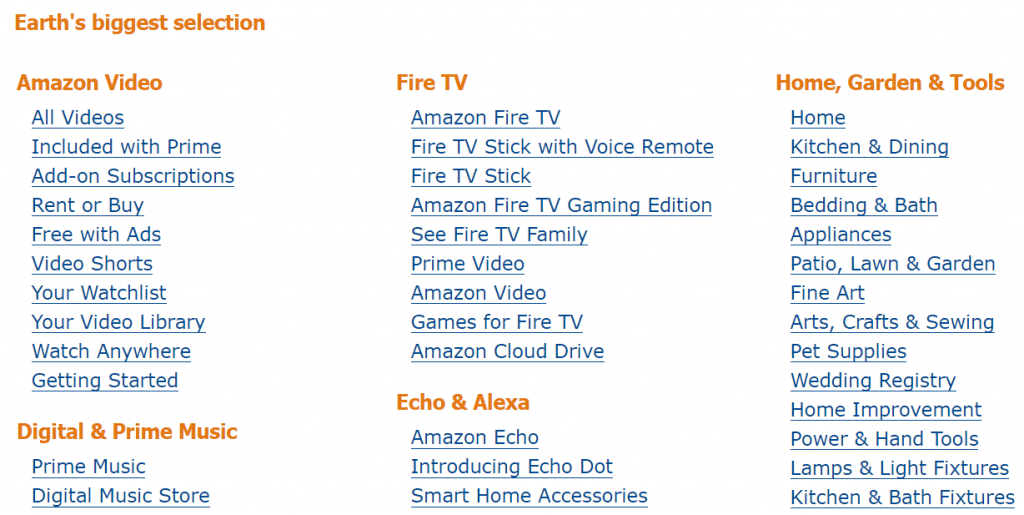 Image source: backlinko
Hence take a look at your competitors and how they have categorized their products and services and the keywords that they use to describe their categories. There's even Google Keyword Planner to help with keyword research but it's not very good for keyword generation.
Website Design:
The way in which your e-commerce website is designed and organized is an important factor for SEO. E-commerce websites tend to have more pages and hence it's important to design it, simply so that the search engines and the user can find the right pages. Follow the following two promising guidelines for site architecture:
Keep the architecture simple and scalable.
Make sure that every web page is not more than 3 clicks away from the home page of your website.
Let us take two cases to understand how the authority matters for product and category pages. The following case an architecture which is neither simple nor scalable:
While the other case has an architecture which is simple and even scalable:
Looking at the two cases we can clearly make out that the second case has a better chance of keeping the buyer engaged because of the simple architecture. Buyers tend to drop interest if they are made to click 10-20 times to reach the buying page.
The On-page SEO:
Once your site design is ready, you can start with the category and product page optimizations. A person searching for "buy sweatshirt online for 9-year-old kids" is keener to buy rather than a person searching for "kid's sweatshirts". Use the primary keywords in your page's title tag but don't stop at that. You can add 'modifiers' also.
Add modifiers like "buy", "cheap", "deals" etc to your title tag to get listed in the more long tail searches. Like if your target keyword for category page is "sports tracksuit", you can add words that people are likely to use "sports tracksuits in the sale" etc. Similarly, there are quite a few keywords that act like magnets and force the buyer to click, like:
X% off
Guarantee
Shipping Free
Easy Return
Sale
On similar lines, add right phrases in the description tag to tempt the buyer to purchase. You can add phrases like 'Free Shipping', 'All items on X% sale', 'Best deal offers' etc. Here is an example of an amended description tag for a product:
Image source: backlinko
Here are the three paramount strategies most endorsed for on-page SEO:
Write a description in 1000+ words: It is found that descriptions with longer content tend to rank high on Google because Google wants to understand what your page is all about. Apart from this, the buyers can also understand better about the product, they are about to buy.
Scatter the keywords: Now that your description is detailed and complete, it is time to add your target keywords 4-5 times. This is simply to make sure that your keyword is mentioned on the page and Google understands what your page is about. But this is not at all related to keyword stuffing.
LSI Keywords: Latent Semantic Indexing keywords are those words which are closely related to your main target keywords. Like let say your main keywords is 'frying pan', then terms closely related to it can be 'granite coated', 'nonstick', 'recipe', 'with a lid', 'nonstick set' etc. Enter your target keywords on Google Keyword Planner to find what matching keywords it suggests for your ad. Now stuff these to your product or category description.
Technical SEO:
Practically all e-commerce websites tend to have 5000+ pages and this increases the betting odds of technical SEO issues. Technical SEO is at times a "tiebreaker" for the Google's first page. Hence it is important that you audit your website often for technical SEO issues.
Use site auditing tools like Raven, SEMRuch, and DeepCrawl etc to perform an audit of your website. It can help you determine broken links, links of no use, content issues etc. If a page is not visited at all and is rather costing you money from your pocket, it's better to delete or hide it.
Other options for fixing are to no-index such pages or club all such pages into a single 'super' page. You can also use e-commerce CMS tools to find which pages have generated revenue and which haven't and then put those in the 'maybe delete' list. Such analysis and fixing can help in boosting the website performance and get on the Google's first page.
Apt Content:
Content marketing is another way to boost your traffic and sales. Narrow down on what your target customers look for online like food, books etc; learn about the keywords that they use most on the web (in comments, etc) for activities other than shopping and create an appealing content blog around those keywords. Maintain a consistency in publishing posts on the blog.
Image source: backlinko.com
Like the popular cookware e-commerce site, Williams-Sonoma.com has an amazing blog featuring recipes, cooking tips etc; their blog has a Page Authority of 66. If you don't have the resources, you can hire SEO services in India or anywhere across the globe to do the right content marketing for your e-commerce business.
Take Away:
Look for opportunities to build more pages, optimize keywords and create appropriate categories and sub-categories. With a well-designed website and least technical SEO issues, you can definitely increase the traffic and sales of your e-commerce business.
Also, make sure that you are doing the right content marketing for your e-commerce business.
About The Author:
Hasel Smith is an enthusiast writer, working as a content writer for Vipra Business. She works closely to demand and provide Blogs and Articles on services giving by Vipra Business The company basically is an IT firm and e-commerce solution company Providing SEO Services India, Mobile App Development, E-commerce Development, Web Development, and Design. She has been lucky enough to work as a reporter and writer for a Web Online Portal, which has helped her to enhance writing skill. Vipra Business is known for proving cheap SEO service and Digital Marketing services to their clients.
---