When you look at a conversion funnel, the top portion that floats over the funnel include those prospects and users who haven't interacted with your brand yet. Next, the tip area, middle portion, and the bottom part include the following population of users and prospects:
Top of Funnel– Those prospects who have somehow interacted with your brand and they know something about it.
Middle of the Funnel– Those prospects who have interacted and you have some data about them say the email address.
Bottom of the Funnel- Those prospects who have interacted and in the way of making a purchase.
Convincing a prospect to come at that bottom level is quite a tough job and your ultimate goal as well. However, it's easier to convince them to share their email address than making a direct purchase. Because sharing the email address does not involve any cost for the prospect.
Once you have the email address
Once you have the email address, you get the opportunity to follow up the prospects from time to time and eventually convince them to come at the bottom of the funnel by making a purchase. So, you have an indirect way to attain your direct objective.
How you get those email addresses?
There is a very crucial mistake that marketers do while in an attempt to get the email addresses of the prospects. It is "buying an email list" from a third party website or agency. This is where marketers misread the funnel phenomena.
Here, they must understand that getting the prospect to the bottom of the conversion funnel is a step by step approach. That is, you must let the prospects go through the first, second and then the third level.
Say when you have a prospect coming directly at the third level, you deprive them of the opportunity to interact with your brand and learn about it. Without a proper pre-interaction, you cannot expect a conversion even if the prospect is at the bottom level of the funnel.
In simple terms, when you purchase an email list from a third party, you get those prospects on the list who might don't even know about your brand. They don't even know that you have their email address. Then how could you expect them to get impressed with a newsletter or email sent to them by someone they know nothing about?
Most importantly, It's non-ethical and illegal to share any user's information on your website with a third party. So, don't support this illegal behavior and agencies who share the email addresses without informing the user.
Build you own email list legally
Any user sharing his/her data on your website with his consent is doing an ethical work. But when you share their data with others without taking a consent, it's illegal under information security act.
Keeping this in mind, you must always collect the email data from your own medium only where users share them willingly. So, I am going to give 7 such ways that you can easily utilize on your own website to collect the email data of your prospects legally, and use this data on your email marketing service to carry out different email campaigns.
Send some paid traffic to a newsletter Landing Page
This idea might seem a little expensive for collecting the email data. You might be thinking, why should I run an Ad for newsletter subscription if I can run the same for my products directly?
The answer is again the conversion funnel. It's easier to convince someone to share an email address rather than making a purchase. That's why you must understand that aim here is to collect the email data, so forget about selling for a micro while. Concentrate on creating a landing page that would be persuasive enough to convince the users for a sign-up.
Sending traffic to your home page is not the only option. If your goal is to collect some email data, a dedicated landing page is a perfect idea. A good landing page will be free from all other distractions and would focus on getting the customers to the middle layer of the funnel rather than directly to the bottom layer. That is, it will have a clear objective of asking the prospects to sign up for the newsletter nothing else.
This is how a dedicated newsletter subscription landing page would look:
Image source: onepagelove.com
Give a discount in trade for an email address
So, you have a dedicated landing page now. But how would you convince the users to sign up? It is not that you would ask and they would give it instantly.
Probably, yes, there is a way where you would ask and they would sign up in return for something valuable to them.
I am talking about giving a discount in exchange for an email address. Perhaps it's a deal that has something of value for the prospects. We used this scratch coupon gamification sign up on our store. Here the user would first scratch a coupon through the cursor, and then provide his/email address to receive the discount coupon code.
This method of encouraging users with a discount coupon is most effective with the prospects who already know about your brand and can trust you for making a purchase with the discount code shared by you.
According to what I have seen on most of the websites, this method works really well. A customer might not make a purchase right away, but would be quick enough to grab the discount coupon at least. Thus, you will have the email address even if the coupon is not converted for a long time. You can later follow up these users to make a purchase using email marketing.
Events and giveaways can boost the data collection
Mensuas, a US-based men's undergarment retail, holds Mr. Mensuas contest regularly. To enter in the contest users have to complete some task, and sharing the email address is one of them. The contest works very well for the brand and gives a lot of opportunities to connect with the users.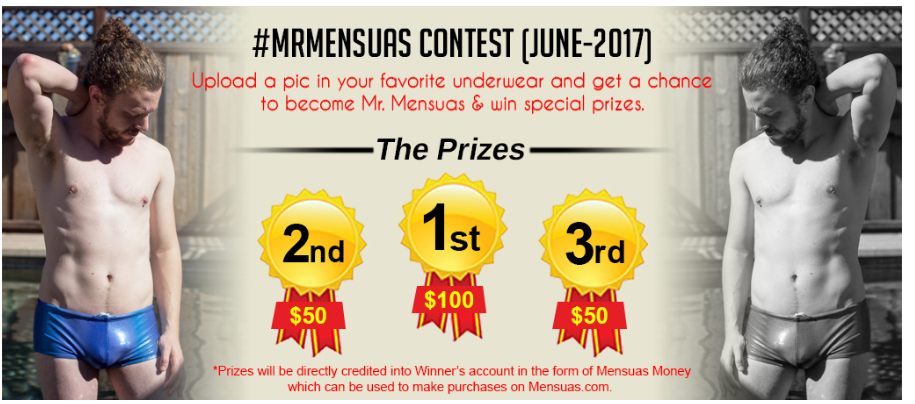 The same concept can be utilized by you to conduct an event or giveaway and ask the users to register for the event by sharing their email address. This process requires a little promotion as you have to promote your event to drive more and more users it.
Facebook can be a quick platform for your event promotion. Moreover, you would also need to create some special pages to tell about the event, collect the sign ups, show the results. Trust me, this effort would not go unrewarded, and at the end, you will have a pool of email data just from a single event.
Don't miss the old school way, on-page newsletter subscription
It would not be of any harm if you also use the old school fashion. I am talking about the traditional newsletter blocks on your web-page. Despite you have a pop-up or a landing page to collect the email, a subscription block on your page would be an addon.
There are users who like the old school way, and they know where to find it if they intend to sign up for your newsletters. Moreover, even this traditional approach can be accelerated with by offering monetary and other benefits with them, if required.
This is how different websites use the traditional form on different sections of the page:
Caption: Search Engine Land uses it at the footer

Caption: Knowband uses the old school footer link way
Caption: Fab gives you 10% discount on sign up
Caption: search engine watch uses the right column space instead of footer
Auto capture and sync from website forms
There are a number of spaces other than the newsletter sign-up form where customers do share their email addresses. Website forms like user registration, exit pop-up, entry pop-up, and checkout form. Users generally provide their email addresses less frequently on these pages, except for the checkout form, but still, these forms can give enough of the email data.
There are modules and extensions which can automatically capture the email addresses from these forms and sync them with your MailChimp, Mailigen, Constant Contact, or any other email list. As soon as the user enters his email address in the form and comes out of the email field, the address gets captured and synced with your email list.
The one-page checkout module is capable of this functionality. It can capture and sync the email address of the customer on the checkout page with your MailChimp email list. There is a setting to configure your MailChimp account with this module.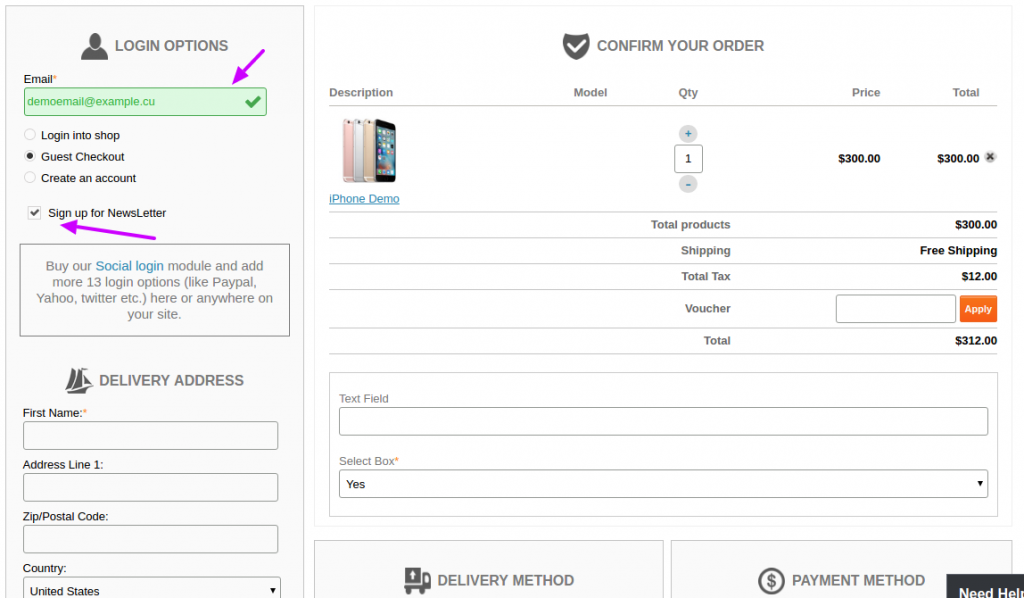 You can use such auto email capture features on your website as well. This method will not only give you some better leads but would also help in following those customers who abandon the cart without completing the checkout.
Use Exit pop-ups
Exit pop-ups work on the principle of exit intent technology. Here a user who tries to exit the site would definitely move the cursor outside the browsing window. The system tracks this user behavior and as soon as the user tries to exit the site, it shows a pop-up.
Now the pop-up can be configured for various usages– Newsletter subscription, event notification, showing an offer etc. Here we are concentrating on the part of keeping the users back on the site by offering something irresistible. And in this whole process, we may ask the user to share the email address.
For example,
Do you want 10 % off? Then share your email address please:
Or, perhaps, a free e-book would interest you:
Don't go empty handed, we have something for you in exchange for your email address:
There are unlimited ways to get your needed thing (email address) before the user exits the site. Just create some awesome exit pop-ups like the above ones, They are hardly resistible.
Be consistent
It's not only about growing your email list but also to keep from shrinking as well. As you grow your email list, you need to stay in touch with your subscribers. Trust me, creating an awesome email list and then sending an email after months is the last thing you would want to do. Perhaps, they would even forget by then that they have subscribed to your email list.
To keep in touch with your email subscribers you can adopt two simple ways. First is by sending manual emails as newsletters, alerts, offers, new product announcement etc. This would keep them engaged and away from the unsubscribe button.
The second way would be to use an auto responder configured with a good email template. The auto-responder will immediately send an email as soon as a subscriber sign-ups for the newsletters.
For example, this Magento demo store allows the users to subscribe for the email product update notification on out-of-stock products. As soon as the user subscribes for the notification, the auto-responder sends a welcome email and also tells that user will be notified as soon as the product is back-in-stock.
Such regular emails will keep the user engaged and won't give a chance for him/her to forget you or unsubscribe from your list.
Finally
These are the 7 ways that can help you grow your email list. Following these methods have a surefire chance of growing your email list in one hand, and keeping from shrinking on the other. Moreover, there are some solutions mentioned like the auto-capture, auto-responder, scratch coupon etc. These solutions basically provide an easier easy way to collect the email data and utilize that data directly on your email marketing software with an automatic sync. Get such solutions on your store too, they are really helpful in many of the cases.
Author Bio:  Ethan Roy is a Magento extension developer at knowband with years of experience on various eCommerce developments. He loves to share the knowledge with his readers and regularly writes about various eCommerce and Magento related topics.