A strong LinkedIn headline is one of the most powerful tools of personal branding on LinkedIn.
It is your 120 character that makes your profile visible in the LinkedIn search and hooks people to your profile.
It is key to make a positive impression on people and explain exactly your work.
So, your LinkedIn headline should be enticing enough to compel people to click on your profile and not your competitors.
This article highlights the Best LinkedIn Headline examples that make you stand out from the crowd.
Walkthrough these examples and pick the points you like. Merge them with your own goals and create an amazing LinkedIn headline.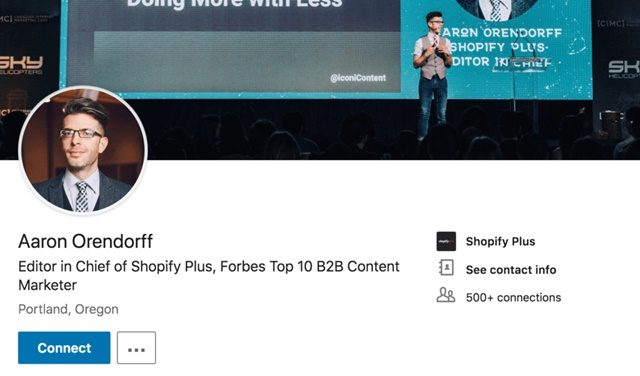 The LinkedIn headline example of Aaron Orendorff is a perfect example of a balance between something straightforward and promotional.
His headline shows that he is an editor in chief of Shopify plus which is a good demonstration of the appealing title.
He also included Forbes Top 10 B2B Content Marketer which is a great example of how to use an award without it dominating your headline.
This is simple yet the most popular example of the LinkedIn headline.
She used clear and concise formatting. You can get a clear idea of what she does without the need for extra words.
Another important thing to mention in the headline is that she makes use of slashes to separate her work. Many times you will see long sentences or a vertical bar instead.
If you want to stand out, even the smallest thing can make a big difference.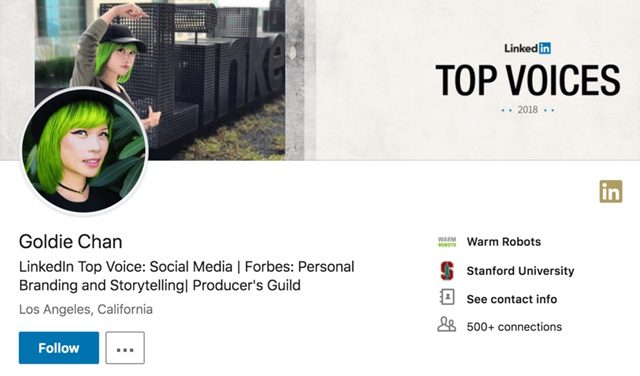 Goldie's headline is something very relevant and impressive that attracts the attention of people.
Since she is a top voice on the network her profile is on, mentioning that in the headline is a great idea.
She also mentioned about another recognizable brand name Forbes in her LinkedIn headline. This is also a major advantage of her profile that instantly connects people.
If you have similar achievements, including them in your headline is a smart decision.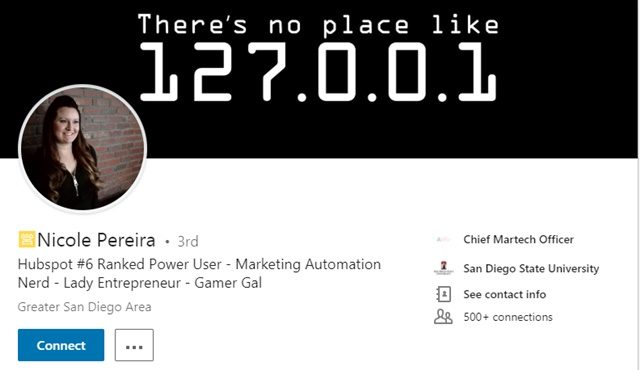 The headline of Nicole Pereira is a great example of simply using your work in your headline.
What is more attractive in her headline is she mentioned HubSpot rank 6 Power User- Marketing Automation which is a very reputed brand. Mentioning this in her headline makes her visible in a lot of LinkedIn searches.
Also, she has mentioned Lady Entrepreneur in her headline which is a great attractive keyword for entrepreneurs.
5. Josh Fechter
The one thing that draws attention to Josh Fechter's headline is that his company is hiring.
It is the main thing that you would like your visitors to take action and using it in the headline is a smart move.
It is the main call to action that Josh added in his headline that will attract more people who want to apply for the post.
Other than this he mentioned accolade in his headline that makes his hiring announcement stand out.
You don't need to get fancy in your headline if you don't want.
Surely your headline can do a great job in promoting your brands and things you care about.
If you are on this platform for general career and networking purposes, simple and short is the right way to go.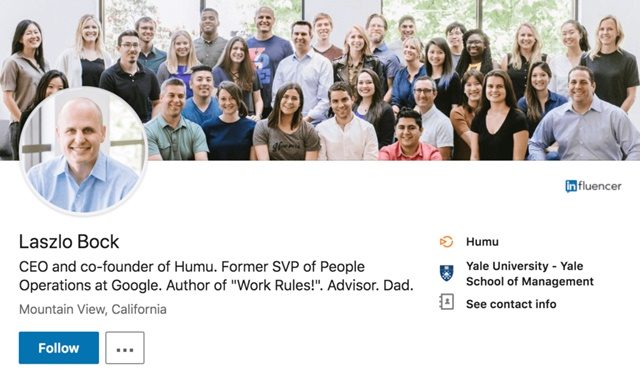 Each section of Laszlo's headline has some purpose; this makes his headline unique and most visited.
The beginning of his headline clearly states his current profession.
The second part shares experience of what he was doing before. Then, he mentioned about his book that encourages some action.
In the end, he adds some personal touch by keeping it simple with words like advisor and dad.
The Whitney's headline is all about important stuff.
Instead of using a bunch of company titles, Whitney included descriptions in her headline that is fantastic in attracting new visitors.
You can completely understand what she does by going through her headline.
This is very useful and something that you want to use in your headline as well.
This headline includes a lot of the same stuff at the beginning and the end.
What is more attractive in his headline is the middle part. He included a snippet of his mission statement.
It is also the unique formula that is rarely used by anyone in his headline.
Others are including accolades on their current roles, but the unique thing about this headline is a personal touch that sets you apart.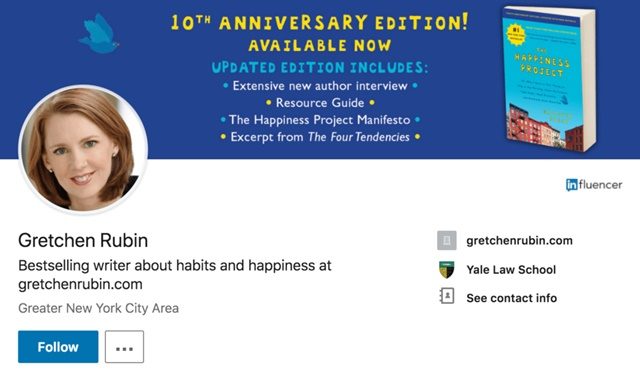 Using your LinkedIn headline to full advantage, make things easy possible for visitors.
She clearly mentioned in very few words about what she is and where you can find more about her.
People mostly use a call to action in their headline, but dropping your URL in the headline can reduce a lot of effort.
She can get a handsome number of visitors due to her attracting headline.
As you know, headline space is just 122 characters, so, if you don't have enough space, you can simply put your website link in your headline.
These are some inspirational LinkedIn Headline examples from which you can learn a lot.
There is nothing right or wrong about writing the LinkedIn headline, the above examples clearly demonstrate different things for different people.
Relate these examples with your accomplishments and find out which best suits you.
About The Author:
George is a corporate relationship manager at Inc Academy – Provide Social Media Marketing Course in Dubai and he likes to share his knowledge on digital marketing topics.
---